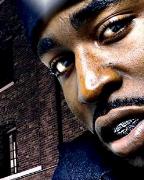 Young Buck pleaded not guilty on Friday to charges of alleged assault with a deadly weapon at November's Vibe Awards.

The awards show was the scene of a melee which involved the stabbing of Dr. Dre's assailant, allegedly by the G-Unit rapper.

Buck, whose real name is David Darnell Brown, was silent during the brief hearing, only speaking to acknowledge that he was waiving his right to a preliminary hearing within 10 days. The only thing he said to reporters was, "Young Buck, go buy my album."

Brown is due back in court for a preliminary hearing on February 18.

Dr. Dre's alleged assailant, 26-year-old Los Angeles native Jimmy James Johnson, is the stabbing victim who recently pled not guilty to attacking Dre. Brown is alleged to have stabbed Johnson in the aftermath of a fight at the show. Witnesses said that Johnson punched Dr. Dre in the face. The punch sparked a brawl that was broken up a few minutes later by police using pepper spray. The Vibe Awards continued and aired later in the week with the incident was edited out.

Johnson pleaded not guilty on Monday to attacking Dre and is due back in court January 26, when a date for a preliminary hearing on assault charges will be set.

Buck, who briefly went into hiding after the incident, faces up to eight years in prison if convicted. He remains free on $500,000 bail. His attorney, Scott Leemon," said "We entered a plea of not guilty today and we're looking forward to our day in court."