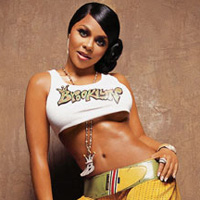 Lil' Kim, whose real name is Kimberly Jones, has been convicted today (Thursday) of lying to a federal grand jury about a shooting outside of New York's notorious Hot 97 radio station.
"I am disappointed in the verdict," Jones said in a statement. "However I was acquitted of the most serious charge, obstruction of justice. Throughout my life, I have always lived with adversity and will continue to have faith and do good for my family, friends and fans."

Jones, also known as the Queen Bee, along with her assistant were both convicted of perjury and conspiracy but acquitted of obstruction of justice. The defendants had faced up to 30 years in prison if convicted of all charges.

Jones, 29, testified that she did not see her manager, Damion Butler, and Suif "Gutta" Jackson at the scene of the 2001 shootout. Both men have since pleaded guilty to gun charges.

Evidence included security photos taken at the station showing Butler opening a door for Lil' Kim.

Witnesses that confirmed the men's presence at the shootout included at the trial included Junior M.A.F.I.A.'s Lil' Cease (James Lloyd) who testified that Butler and Jackson were at the rap station with Lil' Kim.

Defense lawyer Mel Sachs argued that Lil' Kim had no reason to lie since they were no longer in her circle of friends.

Jackson was sentenced to 12 years, while Butler has yet to be sentenced.

The shootout involved Capone-N-Noreaga and was also allegedly fueled by the rivalry between Kim and Foxy Brown.

Allegedly, as Kim and her entourage were leaving Hot 97, Capone's people were entering and the result was a shootout in which over 30 bullets were fired.

According to the prosecution, Butler pulled out a handgun and Jackson pulled a machine gun. An associate of Capone-N-Noreaga was shot in the upper back, suffering minor wounds.