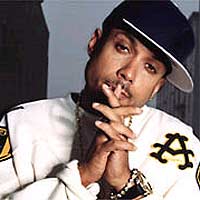 Mere days after The Source co-founder Raymond "Benzino" Scott formally relinquished his position as chief brand executive, Kim Osorio, former Editor-In-Chief of The Source, and former vice president Michelle Joyce have filed a lawsuit against the magazine.

In the eight-page lawsuit, the two women name Scott and CEO David Mays, accusing both men of committing gender discrimination, sexual harassment and unlawful retaliation against women. The pair seeks an undisclosed amount of money.

"After dedicating five years to the Source, I could no longer endure the blatant gender discrimination and harassment so I spoke up. But it only hurt the situation, because I was fired shortly thereafter," said Osorio in a statement. "Unfortunately, discrimination and/or harassment in the workplace is very common. And now, I must speak out for all women who have been victims of this same type of treatment."

Osorio claims she was abruptly fired from the company after formally complaining to the company's Human Resources department. Scott and Mays repeatedly requested that she repeal her complained, but she refused.

In a press release, the women stated that a former managing editor would "hide in her office and avoid walking through the corridors out of fear of being sexually harassed." Osorio also stated that another male employee cursed her out and threatened her with physical violence, but was never reprimanded for his actions.

According to the suit, female employees were the victims of ongoing gender discrimination which bled into the areas of hiring, promotions, compensation, benefits, working hours and discipline.

The suit further claims Scott and Mays verbally abused female workers, and fired or forced out many competent and capable female employees (Joyce was let go in January) for minor issues.

Joyce stated, "I chose to take a stand for women of the Hip Hop generation and for all women who quietly endure such treatment for fear of retaliation and for those women who have suffered in silence and quietly surrendered."

The lawsuit follows Scott's Friday resignation, which saw him release a statement saying he'd grown weary of ongoing beef with Eminem, and the magazine's changing political atmosphere.

"Everyone is too politically correct," he whined. "I plan on creating another magazine that has my voice which represents the little guy. It's because of the manipulation of SoundScan and radio that hip-hop is losing its edge."

Now that there seems to be more motives behind Scott's resignation, there's been no comment from him or his representatives.

Dave Mays denied the allegations and took shots at his accusers' credibility.

"Neither of those women ever filed any complaints during many years of working at The Source it raises alot of questions when these types of charges are made subsequent to valid and legitimate terminations of their employment," Mays said in a statement. "Also it is a fact that Ms. Osorio had sexual relations with a number of high profile rap artists during her employment as Editor-In-Chief.


Osorio and Joyce's lawyer,
Kenneth P. Thompson, had this to say: "Ms. Osorio and Ms. Joyce have shown extraordinary courage in coming forward, and we will fully vindicate their rights at trial."