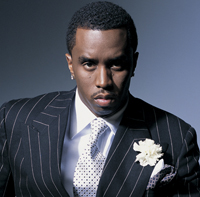 Sean "P. Diddy" Combs, founder and CEO of Bad Boy Entertainment has entered into a worldwide 50/50 joint venture with Warner Music Group (WMG).
Rumored since February, the new joint venture, known as Bad Boy Records, will include Combs' existing recorded music business, catalog and roster of artists such as B5, Boyz N Da Hood, Mase, Carl Thomas, 8 Ball & MJG, Mario Winans and P. Diddy himself. The company will continue to be based out of Bad Boy's current offices in Manhattan.
Lyor Cohen, Chairman and CEO of U.S. Recorded Music for Warner Music Group, said, "We're thrilled to welcome Sean and Bad Boy Records to the Warner Music fold. We believe Sean's entrepreneurial spirit and willingness to push the envelope creatively will be a perfect fit for Warner Music Group. The Bad Boy name has not only stood for hip-hop music for more than a decade, but has evolved into a unique and vital brand."
Terms of the agreement were not announced, and Combs declined comment, but reports have said that WMG has invested $30 million in the deal.
Bad Boy had been distributed by Universal Music Group since 2003, after Combs parted ways with his former joint venture partner Arista Records.
Combs, who would have been tied to Universal Music Group through the end of 2005, is excited about the opportunity for growth with WMG.
"I am thrilled to be working with Lyor Cohen and the entire WMG family," commented Combs. "It was important for me to have the opportunity to grow Bad Boy, and I can do that with WMG. This is a perfect situation for me and Bad Boy, and I can't wait to get out there and continue making music history."
Combs is also embracing the new partnership with former Def Jam exec Cohen.
"He's been my No. 1 competitor through the years," said Combs, "from when he was at Def Jam. ... When you compete with people you respect, you bite at the chance when you get the opportunity to work with them."
In related news, Combs is planning to drop an album of his own in November or December. Also in the works is an album of Notorious B.I.G. duets set to drop in August, along with releases from rapper Black Rob and B5.