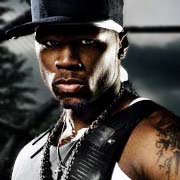 50 Cent and his Reebok ad has gotten a thumbs down in the UK.
Last week, in response to public protest, Reebok International Ltd. pulled an ad featuring rapper 50 Cent from United Kingdom airwaves over concern that the spot glorifies gun violence.
In an ad underscored by one of 50's tracks, the Queens rapper says, "Shot nine times in Jamaica Queens. 1 . . . 2 . . . 3 . . . 4 . . . 5 . . . 6 . . . 7 . . . 8 . . . 9 . . . Tell me, who you planning to massacre next?" He then laughs, kicks up his Reeboks and stares into the camera as the tagline, ''i am what i am," appears on the screen.
More than 50 UK television viewers complained that the spot "glamorizes and perhaps glorifies gun culture," said Donna Mitchell, a spokeswoman for the Advertising Standards Authority, an independent regulator of advertising in the UK.
The ad, part of the sneaker maker's mammoth advertising campaign featuring star athletes and celebrities, is also running in the States, where gun-related deaths are far more prevalent than in England and other industrialized nations.
"If Reebok doesn't take the ad off the air in the US, it should be ashamed of itself," said John Rosenthal, co-founder and chairman of nonprofit Stop Handgun Violence, the Boston group responsible for the antigun billboard on the stretch of the Massachusetts Turnpike between Brighton and Copley Square.
The company has declined to disclose its plans for the ad in the United States.