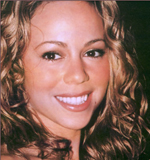 Mariah Carey makes history as the first woman to hold the top two positions on the Hot 100 since the chart's inception in 1958.
"We Belong Together" stayed at No. 1 on the Hot R&B/Hip-Hop Songs for 14 weeks, the same amount of time that it now sits at the Billboard Hot 100 topspot. Her second single, "Shake It Off," jumps 4-2 on the Hot 100.
Carey is just one of five acts in the history of the charts to accomplish a run as lengthy as this, with the others being Outkast, Nelly, the Beatles and the Bee Gees. In 2004, OutKast locked down the top two spots with "Hey Ya!" and "The Way You Move." Nelly did it in 2002 with "Hot in Herre" and "Dilemma" featuring Kelly Rowland from Destiny's Child. The Beatles started the trend in 1964 and were followed by the Bee Gees in 1978.
Carey's also on track to best her own record for having the longest running No. 1 on Billboard's Hot 100. "We Belong Together" has spent 14 non-consecutive weeks at No. 1 and is in a five-way tie for the second-longest running No. 1 in chart history. The top song is another Carey single, "One Sweet Day," which was a collaboration with Boyz II Men. The tune sat at No. 1 for 16 weeks in 1995-96.
The other four songs in the five-way tie are "I Will Always Love You" by Whitney Houston, "I'll Make Love to You" by Boyz II Men, "Macarena" (Bayside Boys Mix) by Los Del Rio and "Candle in the Wind 1997" / "Something About the Way You Look Tonight" by Elton John.