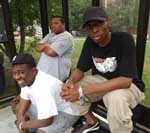 byline by Dino-Ray Ramos, interview by Ifè Oshun

Back in 2001, North Carolina's Little Brother turned heads in the hip-hop community with their unique sense of soulful prose. Now, in 2005, the group is probably one of the most critically acclaimed groups. After the success of The Listening and The Chittlin Circuit 1.5, MCs Phonte and Big Pooh combine their skills with the production aptitude of 9th Wonder to give their fans The Minstrel Show - one of the most anticipated albums of the year.
Following the path of peer groups like The Roots and Dilated Peoples, Little Brother has kicked open the door of hip-hop and has made their presence known. Not only have Phonte and Big Pooh's urban-laced social commentary provoked listeners, but the production dexterity of 9th Wonder has garnered praise from other artists such as Jay-Z, Pete Rock and Memphis Bleek.
Their latest project ups the ante from their predecessors. The group utilizes their fictional television and radio networks, (UBN and WJLR) as an ignition to another distinguished album. Combined with tongue-in-cheek humor and endearing satire, LB's newest venture sees them straddle the line between the commercial and underground world of hip-hop.
Currently on tour with, Big Pooh recently took the time to speak about the "show" and his feelings on today's rap game.
"It's not about the music anymore. It's about image, how much money you got, how many girls you got, how much drugs you sold. It's very disappointing. The new blackface is the jewelry, the pimping, the drugs. Everybody doesn't have to be a pimp, [or] a hustler."
AUDIO INTERVIEW