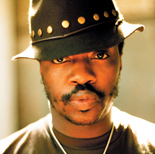 by Ifè Oshun
Inspired by the likes of Marvin Gaye and Al Green, Anthony Hamilton has long been compared to soul music's legends, but when it comes to being original, the 30-something year old icon-in-the-making has what it takes to take today's audience captive.

Holding the crowd in a prison of rapture is exactly what Hamilton did Friday night (April 21) at Los Angeles' Gibson Theater as part of his "Change Your World Tour." Like a solar plexus shaman, the Charlotte, North Carolina native whipped women and men into a frenzy of shouts, sweat and tears with his soul-stirring ballads and funkdified mid-tempo tunes. Backed by a tight 10-piece band and a monstrously dynamic vocal trio, Hamilton delivered the integrity he previously told us about in an exclusive HiphopRnbSoul.com interview.

"I loook at the people and I see how they're really drawn to what I'm saying and what I'm feeling," he shared. "It just takes me to a place where I have to make sure that I turn whatever it was that was thrilling around."

Ripping high-powered energy out the gate, Hamilton entered the stage in a running bounce accompanied by a back beat over which he boomed "This is hip-hop, this is hip-hop!" Donning checked shirt, kangol and jeans, he then pulled off a seamless transition into his signature heartwarming vocals for "The Truth" and other songs from his current almost-platinum set Ain't Nobody Worryin' and 2003's Grammy-nominated Coming From Where I'm From.

The bill also offered the powerful, albeit presentational, vocals of Heather Headley and the eclectic musicianship of uber soul/rock/funkster Van Hunt who opened the night with a punctual, but sorely short set.

In high contrast to Hamilton's energy, stagnant staging marred Headley's set which was saved only by her Tony award-winning vocals. Sporting a hot pink camisole, denim capris and 5 inch heels, the powerhouse was backed by bland, barely moving singers until the closing "In My Mind" saw her come alive.

Opening the night was Atlanta's impressive Hunt, who played several selections from his latest On The Jungle Floor. The 15 minute set included "If I Take You Home (Upon...)" and left audience members wanting more.

"Some of what he plays is reminiscent of Curtis Mayfield, early Prince and even a little Lenny Kravitz," said an appreciative listener. "He covers a lot of genres and has a tight band. He could have done it a little longer."

The night's highpoint, though, was the extremely engaging Hamilton, cheered on by the crowd as he popped and locked with the confidence of one dancing when they know no one's looking. He held nothing back, and the audience returned the favor in a recycling of energy which saw the funked-out "Sista Big Bones" keep many on their feet. The vibe turned quickly into hysteria when the stirring ballads "Can't Let Go" and "Charlene" brought women (and a number of men) to screams, tears and jumping up and down. "Coming From Where I'm From" featured bad-ass bass and electric blaxploitation bop, while the old school inspired "Change Your World" saw Hamilton testify to the power of his own new love. Declaring "it changed my whole world!" he proceeded to prance and spin around the stage, arms outstretched like a bird, before bounding up to the stage's second level where he exited as if on cloud nine.

After intermission, Hamilton and the band re-emerged decked out in white, and joined by a choir for "Pass Me Over" which morphed into an extended hymn accompanied by crowd yells and the singer jumping so high it looked like he'd pop a backflip. "Aint Nobody Worryin'" saw him hop off the stage and proceed to shake hands all the way to the back of the orchestra section like an ideal president greeting his people. Followed by two beefy dudes, Hamilton was met with an outpouring of love as women ran from the back to get hugs, before the encore of reggae tune "Everybody" saw peoople dancing in the aisles, celebrating the spirit of an undeniably gifted performer who truly knows how to sing to the soul of the people.
Check www.anthonyhamilton.com for remaining concert dates.